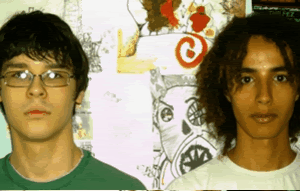 L
actation Sandwich is a braindance/breakcore/jungle duo which consisits of Keith Green and Vincent Vargas-Meinel too 17 year olds from colchester, essex, UK. They have been collaborating together since 2006 and the project originated from an animation group which was in need of experimental audio to go along with its films. soon after the group went on an indefinate hiatis the duo decieded to dedicate themselves to audio experimentation full time. the duo were originally jungle influenced and it was jungle that was the first target genre after making pure experimental music without much of an aim.
Their 'jungle' sound eventually evolved into a more faster harder breakcore style which over time they learnt how to master. After a long time of finding and developing there sound they eventually progressed into a more braindance influenced style and decied to depart from making breakcore all the time. During this time they had became quite involved with love love records
with vince running and maintaining the website aswell as the two being on their rouster.
[SRmp3 156] Lactation Sandwich -
It Appears As If We're Here For Your Escape